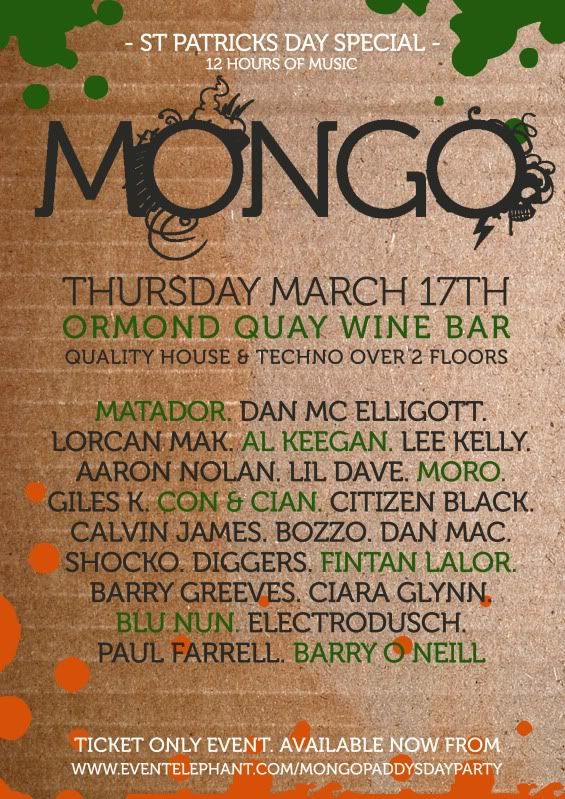 With one of the biggest dates in the Irish party calendar on the horizon, Dublin's newest monthly party MONGO are delighted to be hosting an all day St Patricks Day Party that's sure to be a fine addition to this years festivities.
Taking place Thursday March 17th in the super cool surroundings of the Ormond Wine Bar on Ormond Quay, the daytime dance event will see a stellar line up of some of the finest local DJs, as well as the newly crowned MONGO residents, come together for 12 hours of quality House and Techno. With two floors the impressive space boasts Function1 sound downstairs and a bright spacious bar upstairs that's sure to create perfect setting for some daytime dancing!
Doors for the event will open from 12 and the party will run until midnight. With limited capacity and concerns about both numbers and certain unwanted clientele that may be around town on the day, the party will be a TICKET ONLY EVENT!
In order for the party to work and avoid any issues on the day it will be a private event for ticket holders only! Please Note: You can NOT pay at the door!
Tickets will be available from Monday 28th Feb. They will be priced at a mere e10 and are limited to 250. Early purchase is advised to guarantee entry on the day, so please if you think you will be going, do get a ticket asap as we are pretty sure it will sell out!
We hope you all understand that we are running this event as a private party to ensure the best possible day out for everyone and after the huge success of the recent MONGO launch party we are confident that another great party is guaranteed!
Please feel free to spread the good word, be sure to tell any fellow party goers or sound heads that might be interested in coming along so that they don't miss out!!
Party on!!
BASEMENT
Aaron Nolan (Mongo)
Citizen Black (Mongo)
Cian & Con (SoundFactory)
Al Keegan (Mongo)
Matador (Aciitone / Cocoon)
Lorcan Mak (Southern Fried Records)
Barry O'Neill (Yes Festival)
Lee Kelly (Subject)
Ciara Glynn & Blue Nun (515 / Allegro)
Moro (Mongo)
Elektrodouche (Dublin X-press)
UPSTAIRS BAR
Dan McElligott (Test)
Barry Greaves (Free Techno)
Bozo (Free Techno)
Paul Farrell (Chonk)
Dan Mac (303)
Shocko (Real Sound)
Diggers & Fintan Lalor (Yes Festival)
Lil Dave (Nightflight)
Calvin James (Synth Eastwood)
Giles K (Torque)
MONGO ALL DAY PARTY
St Patricks Day March 17th 2011
The Ormond Wine Bar, 6 Upper Ormond Quay
Doors 12 Noon – 12 Midnight
ADM - €10 (TICKETS MUST BE BOUGHT IN ADVANCE)
TICKETS AVAILABLE HERE –